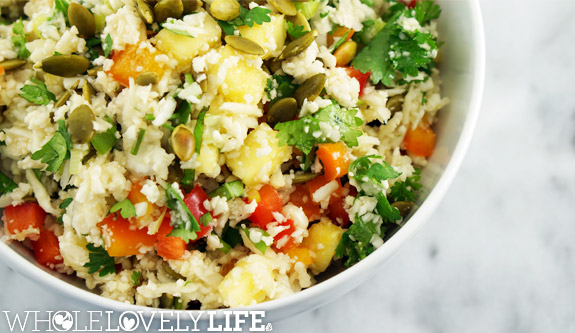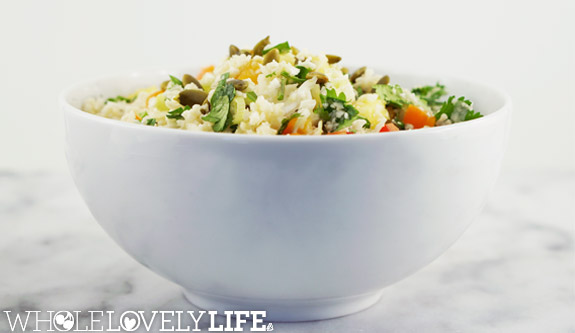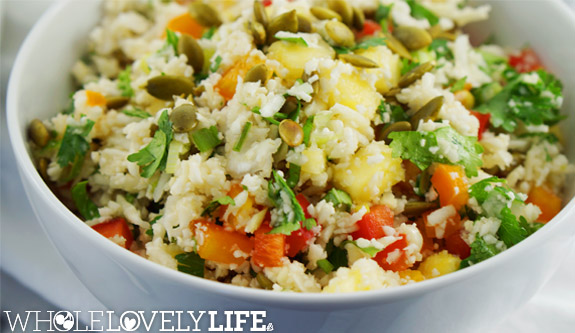 Hope everyone's week is off to a great start.  One of my favorite fast and easy weeknight dinners is salad.  However, typical lettuce salads can get boring after awhile.  This Asian Cauliflower Rice Chop Salad will help mix up your boring salad routine!  It is the perfect balance of sweet and savory and is filled with lots of heathy raw ingredients.  Cauliflower rice has been popular for quite some time and while I like using it for hot dishes I enjoy it even more in cold dishes especially during the summer months.  Cauliflower is one of my favorite vegetables to cook with because of it's mild flavor and the fact that it can be used in so many way's.  Not to mention it's abundance of health benefits.  Cauliflower is a member of the cruciferous vegetable family along with kale, brussel sprouts, broccoli and cabbage.  It is filled with phytochemicals, antioxidants and anti-inflammatory compounds so eat up.  Enjoy!

Asian Cauliflower Rice Chop Salad
Author:
Katie at WHOLELOVELYLIFE.COM
Recipe type:
Salads + Sides
Paleo, Autoimmine Protocol (see note), Vegan, Vegetarian, Pescatarin, Gluten Free, Grain Free, Nightshade Free (see note)
Ingredients
1 red pepper
1 orange pepper
3 green onions
1 head cauliflower
2 cups chopped pineapple
¾ cup chopped cilantro
1 Tbsp chopped mint
4 Tbsp chopped basil
¼ cup chopped parsley
2 Tbsp avocado oil
1 tsp sea salt + a sprinkle
Juice from 1 lime
2 Tbsp red wine vinegar
3 Tbsp coconut sugar
4 Tbsp coconut aminos
¼ cup raw pepitas
Instructions
Wash, cut and rice cauliflower. To rice cauliflower either use a cheese grater or your food processor. Place riced cauliflower in a large bowl.
Wash and chop green onion, red and orange pepper and place in the bowl.
Wash, chop and measure out mint, basil, parsely and pineapple and place in the bowl.
Toast pepitas by adding to a lightly oiled pan. Sprinkle with a touch of sea salt. stir continuously until just starting to brown then immediately remove from heat.
To make dressing mix sea salt, lime juice, red wine vinegar, coconut sugar and coconut aminos. I like to use a mason jar and give the dressing a good shake.
Add dressing to the salad along with toasted pepitas, toss well and serve.
Notes
Use organic whenever possible! Omit red and orange pepper for AIP and Nightshade Free. You can swap in a different veggie or omit all together. I recommend carrot as a good su.