You had me at COLD BREW!

This is not your average cold brew.  It is blended with sweet banana, turmeric, cinnamon and vanilla making this an amazing antioxidant filled drink!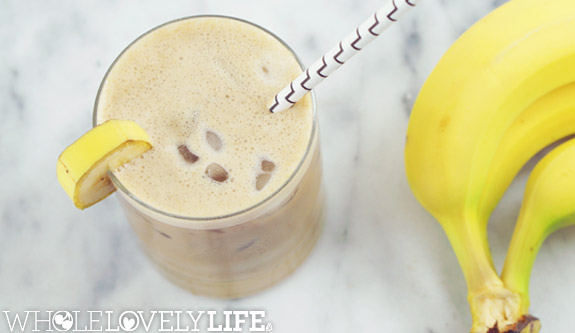 If you know me you know I love cold brew and that I'm always looking for ways to add a little extra nutritional boost to what I consume.  This cold brew does just that.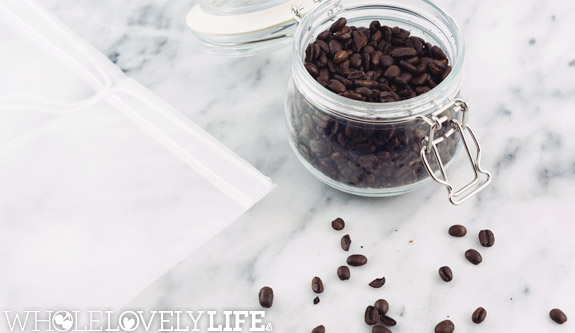 You can easily use store bought cold brew for this recipe.  However, making your own cold brew concentrate is super easy and affordable especially with Ellie's Best Nut Milk Bag!  I never thought about making cold brew with a nut milk bag until I received theirs and will never go back to my Toddy or french press.  Ellie's Best is a much larger bag than I have used in the past, is much stronger and BPA free!  You may not think about BPA when it comes to your nut milk bag but you should!
To make homemade cold brew here is what you do.  Coarsely grind 1 cup of your favorite organic coffee and place it in a pitcher or jar.  Pour 4 cups of filtered water on top and stir gently to mix.  Refrigerate for 12-24 hours.  I personally like waiting the full 24 hours as it  yields a very strong, intense flavor.  When you are ready to strain place your nut milk bag in a pitcher or jar and pour the coffee mixture into it.  The grinds will be left in the nut milk bag making it super easy to discard.  What you have left is a concentrate that can be stored in the refrigerator for up to 3 weeks.  How easy is that?  Then, just mix the concentrate with your favorite milk or filtered water and you have perfect cold brew!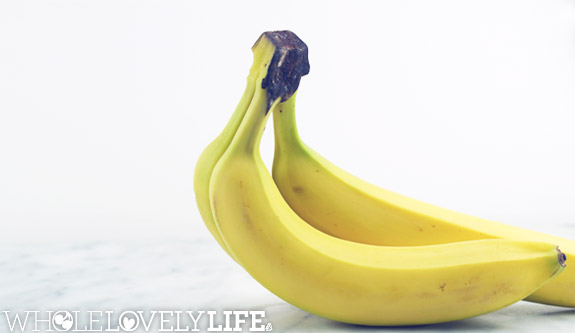 Lovely Ingredients For Vibrant Heath:
Coffee contains even more antioxidants than berries!
Bananas are filled with fiber and are a great source of potassium which is an essential mineral that helps to maintain normal blood pressure and heart function.
Turmeric is a spice I could go on about forever because there are so many benefits to getting it into your diet daily.  It is highly anti-inflammatory and filled with antioxidants that help to protect your body from free radicals.  Protection from free radicals is one of the most important things you can do to prevent disease.
Cinnamon is filled with antioxidants, is anti-inflammatory and naturally anti-microbial.  It also contains lauric acid which is a medium-chain fatty (MCT).  MCT's are immediate energy for your cells.
Vanilla is an antioxidant, is antibacterial and has been show to decrease inflammation as well as cholesteral.
Hope you love this Banana Turmeric Cold Brew as much as I do.  Enjoy!
If you are looking for a few dairy free nut milks here are a few you will love!
Budget friendly Almond Milk, Cashew Milk or Brazil Nut Milk.
I have a separate Ellie's Best Nut Milk Bag I use to make all my dairy free milks!
Want to try an Ellie's Best Nut Milk Bag for yourself?  Use code lovelylife to save 10%.

Banana Turmeric Cold Brew
Author:
Katie at WHOLELOVELYLIFE.COM
Recipe type:
Smoothies + Drinks + Juices
Paleo, Vegan, Vegetarian, Gluten Free, Refined Sugar Free, Nightshadefree, Pescatarian, Refined Sugar Free, Grain Free
Ingredients
½ cup cold brew concentrate
½ cup nut or coconut milk
⅛ tsp turmeric
⅛ tsp ceylon cinnamon
½ banana
¼ tsp vanilla extract
Optional: 1 tsp maple syrup or favorite unrefined sweetener
Instructions
Add all ingredients to a blender and mix on high until smooth.
Pour over ice, top with a straw and enjoy.
*Ellie's Best provided the nut milk bag pictured in this post but thoughts are all my own.