Love, love, love blueberries!
Especially when it's the dead of winter and spring is still a bit too far out of reach.  There's something about fresh berries that remind me of warm, sunny days.  You know those days that feel like they go on forever and you just chill in your backyard and enjoy the gorgeous weather?  You with me?  This salad will have you thinking sunshine, relaxation and happiness.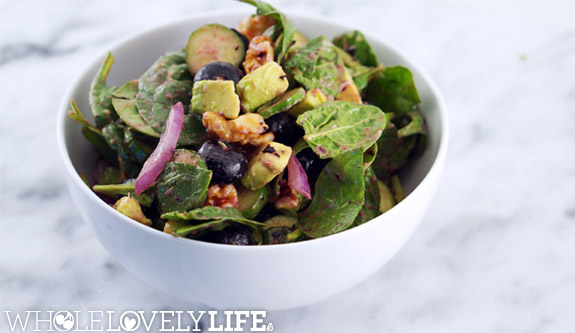 Blueberries add the perfect touch of tang to both sweet and savory dishes and are the shining star of this Blueberry Avocado Spinach Salad.  Not only do they add a pretty touch but the flavor they and crunch they lend to this salad can't be beat.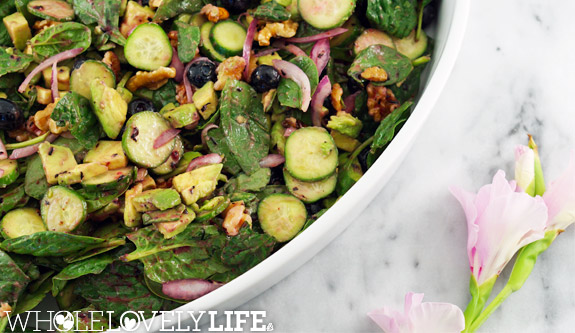 This salad is filled with crunchy veggies and topped with a wonderful blueberry vinaigrette.  Yes, I just said blueberry vinaigrette!  I mean how delish does that sound?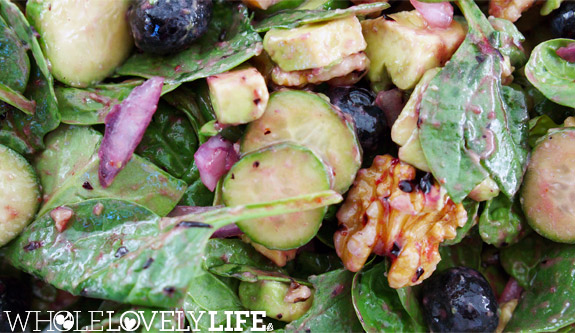 Lovely Ingredients For Lovely Health:
Blueberries are one of the highest antioxidant foods in the world so getting them into your diet any way you can is a great thing!
Cucumbers are crispy, cool, flush toxins, hydrate your body and scream summer!
Red Onion is either your thing or it's not.  Leave it out if it's not but it's great for fighting free radicals in the body and looks downright pretty in this salad.
Raw Walnuts don't just accidentally happen to look like the human brain.  They contain neuroprotective compounds, such as vitamin E, folate, melatonin and omega-3 fatty acids. 
Spinach.  Need I say more!  Rich in an array of nutrients and minerals.  You can never have to much spinach in your diet.
Avocado is last but not least.  Filled with potassium, heart healthy fats and fiber.
Hope you love this salad as much as I do.  Enjoy!
Blueberry Spinach Salad
Author:
Katie at WHOLELOVELYLIFE.COM
Recipe type:
Salads + Sides
Paleo, Whole 30, Autoimmune Protocol, Bone Broth Diet, Grain Free, Gluten Free, Dairy Free, Vegan, Vegetarian, Nightshade Free, Refined Sugar Free, Pescatarian
Ingredients
8-10 cups spinach
½ cup + ¼ cup (for vinaigrette) blueberries
2 small avocados or 1 small avocado
4 mini cucumbers or 1 small cucumber
¼ medium size red onion
¼ cup olive oil
2 Tbsp champagne vinegar
½ tsp sea salt
⅓ cup raw walnuts (omit for Autoimmune Protocol)
⅛ tsp black pepper (omit for Autoimmune Protocol)
Instructions
Place spinach and ½ cup blueberries in a large bowl.
Chop cucumber, red onion and avocado and place in bowl with spinach.
To make vinaigrette add ¼ cup blueberries, olive oil, champagne vinegar, sea salt and black pepper in a small food process or blender. Mix on high until blueberries broken down and mixed in.
Pour over the top of the salad and mix well.
Sprinkle walnuts on top and serve.
Notes
Use organic whenever possible. Omit raw walnuts and black pepper to make Autoimmune Protocol.