Chia seeds in a chocolate chip cookie?  Heck yes!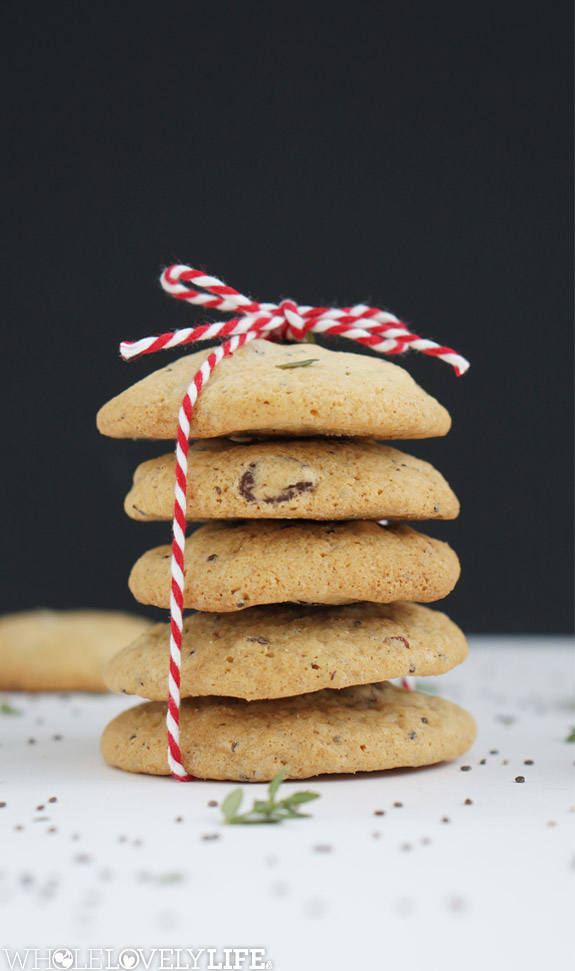 You know me and how I love to up the nutrient density where I can, especially when it comes to treats.  Chia seeds are little bundles of goodness and they make these cookies Chia Pecan Chocolate Chip Cookies oh so perfect.  Chia seeds
are high in Omega-3 fatty acids, antioxidants, fiber as well as vitamins and minerals.  Who doesn't love a little extra goodness in their chocolate chip cookie?  I know I do!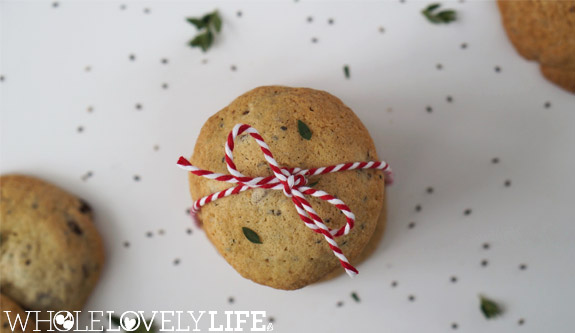 It's hard to believe Monday is already Christmas!  I'm not sure what happened to December?  Anyone else feeling that way?  Even though Christmas is right around the corner you still have time to make these super simple, delish cookies for your holiday gathering or for yourself.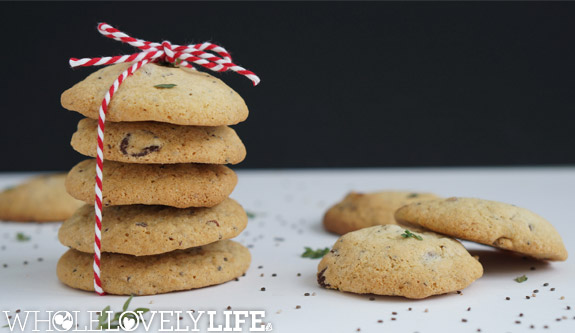 I should point out one thing.  These are not Paleo and I'm ok with that.  I used gluten free flour for these which I don't do often.  However, I feel like you get a more traditional tasting chocolate chip cookie with a gluten free flour.  Last years Paleo baking did not go all that well so I thought I would make things easier on myself this year.  The best gluten free flour I have found is Bob's Red Mill
but you can use any gluten free flour you prefer.  Happy baking!
Lovely Ingredients For Vibrant Heath:
Chia Seeds are filled with Omega-3 fatty acids, antioxidants, lots of fiber as well as vitamins and minerals.
Happy Holiday season and I hope you whip up a last minute batch.  Enjoy!
Note: To make the best chocolate chip cookies you need the best chocolate chips and my favorite are Equal Exchange Bittersweet Chocolate Chips.   The reason I love these chocolate chips is they are fair trade, organic and 70% cacao!

Chia Pecan Chocolate Chip Cookies
Author:
Katie at WHOLELOVELYLIFE.COM
Recipe type:
Treats + Snacks
Prep time:
Cook time:
Total time:
Refined Sugar Free, Gluten Free, Pescatarian, Night Shade Free
Ingredients
1 cup coconut sugar
½ maple syrup
1 cup softened grass fed butter
2 tsp vanilla extract
2 pasture raised eggs
2 Tbsp chia seeds
2⅓ cup gluten free all purpose flour
1 tsp baking soda
1 tsp baking powder
1 cup bittersweet chocolate chips
1 cup raw pecans
Instructions
Add coconut sugar, maple syrup, softened grass fed butter, vanilla extract, pasture raised eggs and chia seeds to a large bowl and mix with a hand mixer until creamy.
In a separate bowl use a whisk to mix gluten free all purpose flour, baking soda and baking powder together.
Add dry ingredients to wet ingredients slowly and mix with a hand mixer scraping down the side of the bowl as needed to bring all ingredients together.
Add bittersweet chocolate chips and raw pecans and slowly mix one more time.
Using a cookie scoop or spoon place even size balls of dough on a parchment lined baking sheets. cookies should be around 2 inches apart.
Bake for 8-10 min at 350 degrees.
Cool on a cooking rack and store in an airtight container.
Notes
Use organic and pasture raised butter!