Raspberries, Raspberries, Raspberries!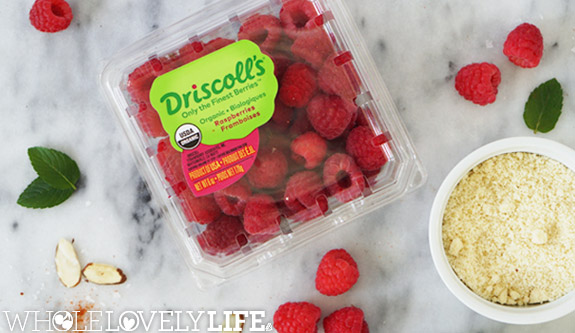 Did you know Minneapolis-St. Paul is the #3 most berry loving city in the country and #1 for raspberries?  Recently Driscoll's named the Twin Cities the raspberry consumption capital of the country.  Minnesotans consume 132 percent more fresh raspberries per household than the national average.  Who knew?  Although, with the amount of berries and raspberries my family consumes weekly it does not surprise me!
I am a huge advocate of buying organic whenever possible and the following is why I love Driscoll's so much!  They are a leader in growing organic berries and take pride in protecting their farmland for generations to come.  Driscoll's defines sustainability as "meeting our present needs without compromising the ability of future generations to meet their needs."  They are fully committed to ensuring they make continual progress towards waste reduction and better care for natural and social resources.  Driscoll's uses natural pest control methods for their organic berries to avoid the use of insecticides and they never use genetic modification.  I love them even more for this!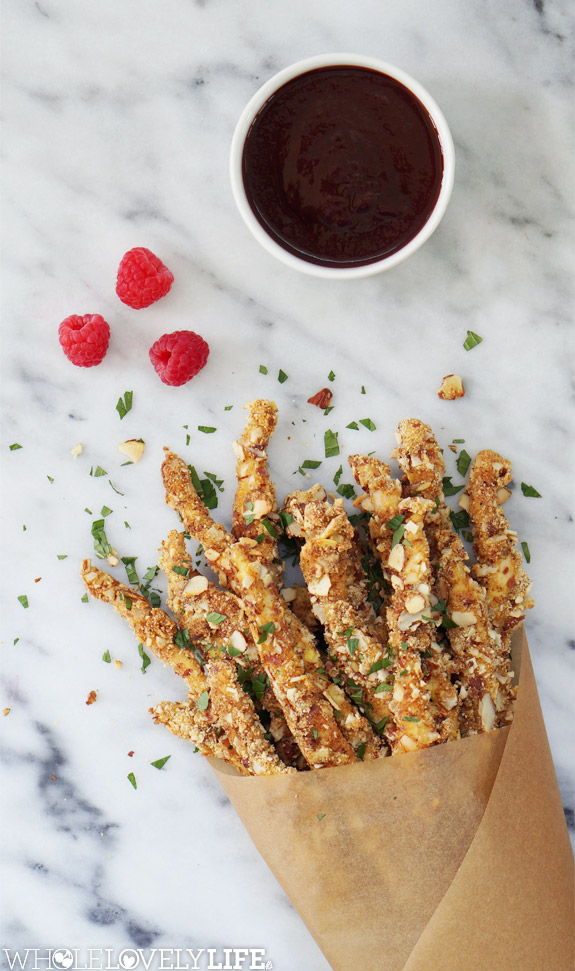 When I think of raspberries I think of hanging out in the backyard, family picnics and H's messy little berry stained fingers and face.  I also think about dessert.  Who does not love berries and coconut whipped cream?  Yay, me too!  One of my favorites.
I was super excited to partner up with Driscoll's & theFeedFeed and for this recipe I decided to challenge myself to come up with a fun, kid friendly, healthy, non-dessert recipe using raspberries and I think "I" did it!
I have a major thing for sweet and savory and if that is you too then you are going to love these Chicken Fries with Mint and Sweet Spicy Raspberry Sauce.  The best part is this recipe is grain free, gluten free, dairy free and refined sugar free!  The chicken fries and spicy raspberry sauce keep well in both the refrigerator and freezer so you can whip up a few batches at a time for easy lunches and dinners.  Oh, and the spicy raspberry sauce can be used in so many ways.  Bonus!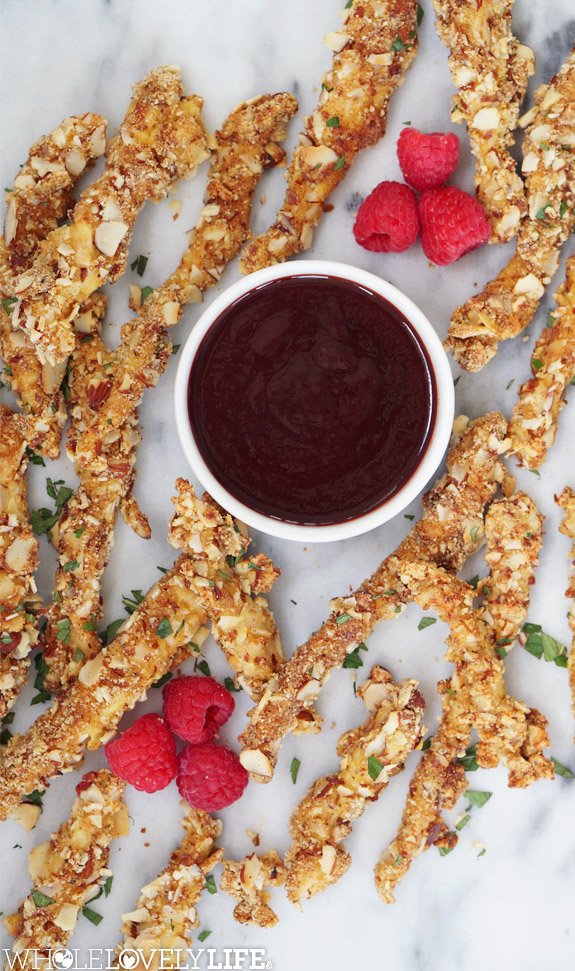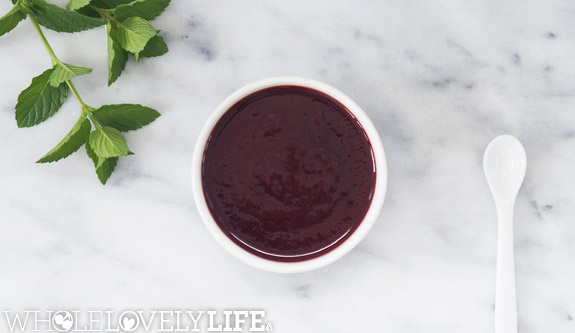 Lovely Ingredients For Vibrant Heath:
Raspberries are the star of the show and bring this entire recipe together.  They are filled with antioxidants and minerals such as manganese, copper and iron.  They have anti-inflammatory properties and boost immunity.
Almonds give the crust a perfect crunch and structure which makes these chicken fries perfect for little hands and oh so wonderful for dipping.  Almonds can help control blood sugar, are amazing for brain and skin health and are filled with fat soluble nutrients.
Mint adds the most amazing summer flavor and is great for digestion.
Cayenne Pepper gives the sauce a bit of a kick and helps with digestion and detoxification.
Coconut Sugar is still sugar but is far superior to table sugar because it has vitamins, minerals and phytonutrients.
Cassava Flour is filled with Vitamin K, B Vitamins, manganese, zinc, iron, copper and magnesium.
Eggs have choline as well as the antioxidants lutein and zeaxanthin which are important for eye health.
#BerryTogether
As you know a gratitude practice, being present and working to be in tune with every moment has been a huge part of my healing journey.  The greater my focus on the small things the more I see the good in everything around me and the fuller my life becomes.  Driscoll's shares the same sentiment and believes that the best moments in life are the small ones and those we share with others.  When we share something as delicious as a Driscoll's berry, everyday moments become just a little bit more special.  Life is certainly sweeter when you #BerryTogether!
Now for some exciting news!  Driscoll's is hosting a Minnesota-exclusive #BerryTogether sweepstakes – where one lucky winner will win a 4-night stay at Madden's on Gull Lake and Four (4) first prize winners will each receive one year's worth of berries!  Nothing is sweeter than that!  For full details and to enter click here.
I hope you enjoy this recipe and as much as I do and find it a reason to eat more raspberries!
Almond Crusted Chicken Fries with Mint and Spicy Raspberry Dipping Sauce
Author:
Katie @ WHOLELOVELYLIFE
Prep time:
Cook time:
Total time:
Paleo, Grain Free, Gluten Free, Dairy Free, Refined Sugar Free
Ingredients
2 pints Driscoll's organic raspberries
¼ cup filtered water
½ tsp cayenne pepper (use ¼ tsp for less spice)
½ cup coconut sugar
1lb skinless chicken breast
¼ cup cassava flour
½ cup almond flour
1 cup crushed sliced almonds
1 tsp garlic
1½ tsp sea salt
1 tsp paprika
½ tsp pepper
2 eggs
avocado oil spray
2 stalks of mint
Instructions
Add raspberries to a food processor and process until raspberries are pureed.
Pour pureed raspberry through a mesh sieve or mesh colander into a pot separating seeds. Use a rubber spatula to push the raspberry puree around until only the seeds are left. Be sure to wipe the puree off the underside of the strainer.
Add coconut sugar, filtered water and cayenne pepper.
Bring to a boil then reduce heat to low and simmer for 20 min stirring every 3-5 min.
While the sauce cooks prep the chicken. Once the sauce is finished remove from heat and set aside.
Preheat oven to 425 degrees.
Place parchment paper on a backing sheet and spray with avocado oil (you can use any oil of choice however, I prefer avocado as it has a high smoke point).
Prepare three dipping bowls.
In the first bowl add eggs and whip with a fork to bring the yolk and white together.
In the second bowl add almonds slices and use your hands to break and crush into smaller pieces. You want the almond slices to be broken down but not completely crushed. Add almond flour, 1 tsp sea salt, paprika, garlic powder, pepper and mix well.
In the third bowl add cassava flour (can use regular flour if you prefer) and ½ tsp sea salt and mix well.
Slice chicken breasts in long skinny pieces that resemble French fries.
Dip chicken slices in cassava flour then egg then almond flour mixture. I find it easiest to drop the chicken slices in the bowl and then slowly shake and roll the slices until perfectly covered.
Lay pieces on the baking sheet.
Continue until all chicken pieces have been covered and are placed on the baking sheet. Try to keep slices from touching each other.
Lightly spray chicken with avocado oil.
Bake for 8-10 min (the thinner the slices the less baking time that is needed) and then use tongs to flip each piece careful.
Bake for another 8-10 min.
Chop fresh mint and sprinkle on top of the chicken Frenc
Notes
Use organic and ethically sourced meat whenever possible!
*This blog post is brought to you by Driscoll's & TheFeedFeed.  Thank you for supporting the brands that support me.  All opinions are my own!