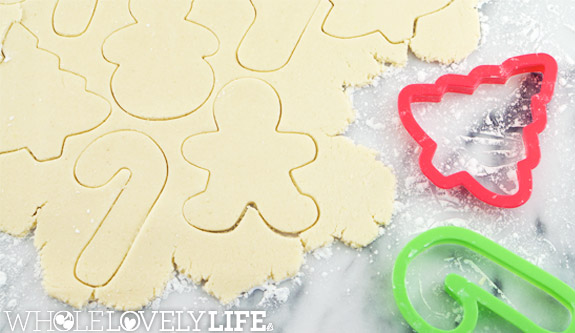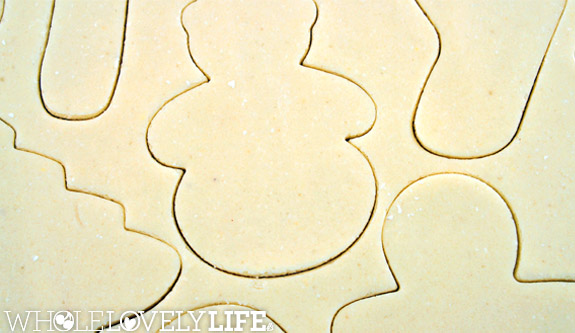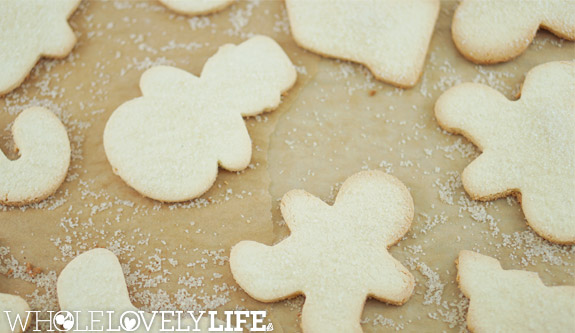 Did you guys check out my Candy Cane Sugar Cookies?  If you did I hope you loved them!  The base dough from that recipe is just perfect for basic cutout sugar cookies.  These Coconut Flour Cut-Out Sugar Cookies are grain, dairy, nut free and contain half the amount of sugar as other cut-out cookies.  My husbands Grandmother's sugar cookies are a favorite of his and even though these are not exactly the same he said with a little icing on top they would be perfect.  I will take that as a compliment!  These cookies cut out perfectly and can be topped with anything your heart desires.  So, if icing is your jam go for it!  I have not had much success with making "healthy" icing.  Sometimes you just have to go for the real thing but with upgraded ingredients.  If I was going to make icing for these cookies I would stick to a basic buttercream with grass fed butter and organic powdered cane sugar.  It's Christmas after all!  If you prefer a simple, not too sweet sugar cookie then I would just sprinkle a little organic cane or coconut sugar on the top.  Enjoy!

Coconut Flour Cut-Out Sugar Cookies
Prep time:
Cook time:
Total time:
Paleo, Vegan, Vegetarian, Grain Free, Gluten Free, Diary Free, Pescatarian, Nightshade Free
Ingredients
1½ cup coconut flour
1½ cup tapioca flour + extra for rolling out
½ cup organic coconut or cane sugar + more for sprinkling on top
1 can coconut milk (for coconut cream and coconut water)
¼ cup coconut cream (refrigerate a can of coconut milk and scoop out just the hardened cream)
2 Tbsp coconut water (water from coconut milk can)
3 eggs
1 tsp vanilla extract
½ cup coconut oil melted
zest from 1 lemon
½ tsp sea salt
¼ tsp baking soda
Instructions
In a medium size bowl combine coconut flour, tapioca four, sugar, sea salt and baking soda. Mix well.
In a small bowl combine coconut cream, coconut water, vanilla extract, zest from 1 lemon, coconut oil and 3 eggs. Mix well.
Combine dry and wet ingredients using a mixer.
Dust counter lightly with tapioca flour.
Take half the dough and knead slightly with hands to bring it together then role carefully until about ⅛" - ¼" thick.
Cut out using your favorite cookie cutters.
Lay on a parchment lined sheet.
Bake at 350 degrees for 15 min.
Notes
Use organic whenever possible!