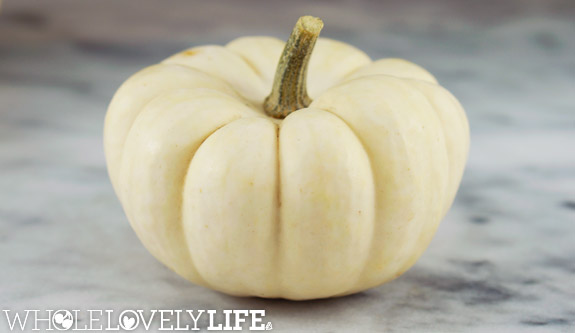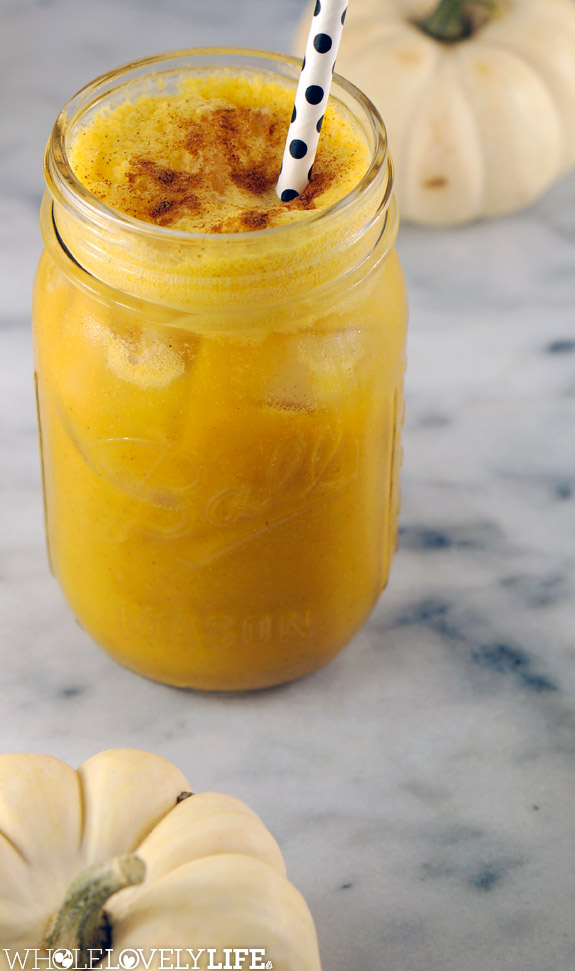 If you follow my Instagram you know I treat myself to a Starbucks Pumpkin Spice Latte once a year on Halloween, but make a few changes to it so that it's as "healthy" as a Starbucks pumpkin spice latte can be.   I get 3 shots of espresso and add 1 shot of pumpkin spice plus my own coconut or nut milk from home.  It tastes just as good but eliminates a lot of the junk.  Even with this method I feel like I can only have it as a once a year treat.  Who can only have a pumpkin spice latte once a year?  Not me!  When it's not Halloween I whip up my own Autoimmune Protocol compliant version.  This Coffee Free Pumpkin Spice Latte is super easy to make and is so much healthier since it uses real pumpkin and added anti-inflammatory spices turmeric and ginger.
If you are looking for a budget friendly nut milk check out my Almond Milk and Cashew Milk recipe.  Enjoy!

No Coffee Pumpkin Spice Latte
Author:
Katie at WHOLELOVELYLIFE.COM
Recipe type:
Smoothies + Drinks + Juices
Autoimmune Protocol, Paleo, Vegan, Dairy Free, Gluten Free, Grain Free
Ingredients
2 cups homemade coconut or nut milk of choice (canned coconut milk is too thick for this, if using store bought coconut or nut milk be sure its free of carrageenan)
1 cup pumpkin
1-2 Tbsp grade B maple syrup depending on desired sweetness
⅛ tsp clove
1¼ tsp + a sprinkle cinnamon
½ tsp ginger
¼ tsp turmeric
½ cup ice
Instructions
Place all ingredients except the ice in a blender.
Blend on high for 30 seconds to 1 min.
Pour over ice and sprinkle with cinnamon.