Did someone say MARGARITA?
I just did!  It's still pretty chilly in Minneapolis but my mind is on spring and warmer weather so I of course have been craving a margarita.  If I'm going to have a mixed drink it's going to be a margarita.  But not just any old margarita.  It needs to be made from real, fresh, wholesome ingredients.  I'm talking about fresh squeezed lime juice, whole fruit and no refined sugar.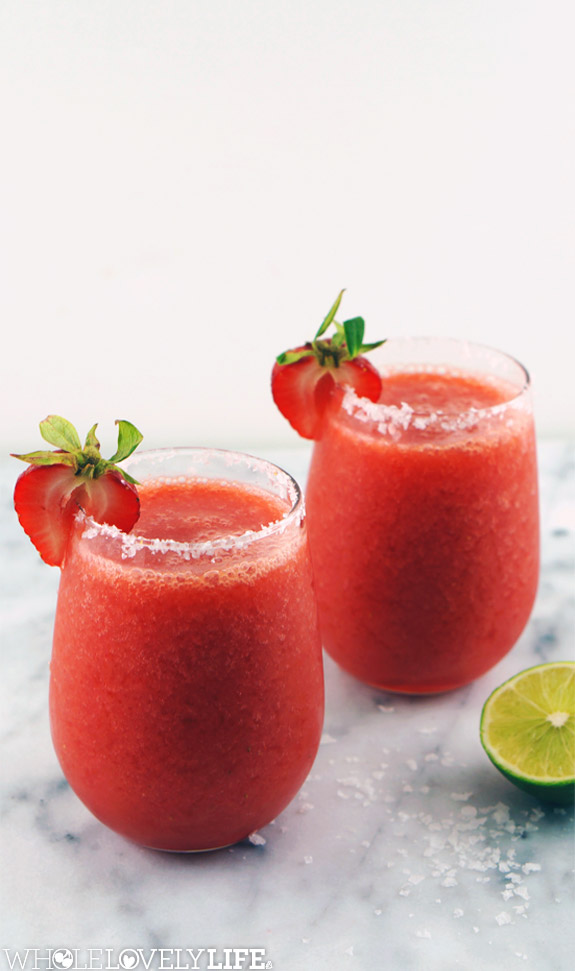 When 1915 Organic sent me their delish cold press organic juices the first thing that came to mind was using one as a base for a healthier margarita.  I know I have never posted an adult beverage recipe before but even though I work to eat a healthy, nutrient dense diet there is certainly room for treats like this!  I used their Coconut Water, Strawberry, Pear, Apple, Lemon juice to create this "Healthier" Strawberry Margarita.  What I love about using cold press juice as a base in mixed drinks is you don't need to add any additional sweeter.  This juice is just sweet enough!  Conventional margaritas are loaded with sugar and who needs that.  Just think of this as a margarita smoothie!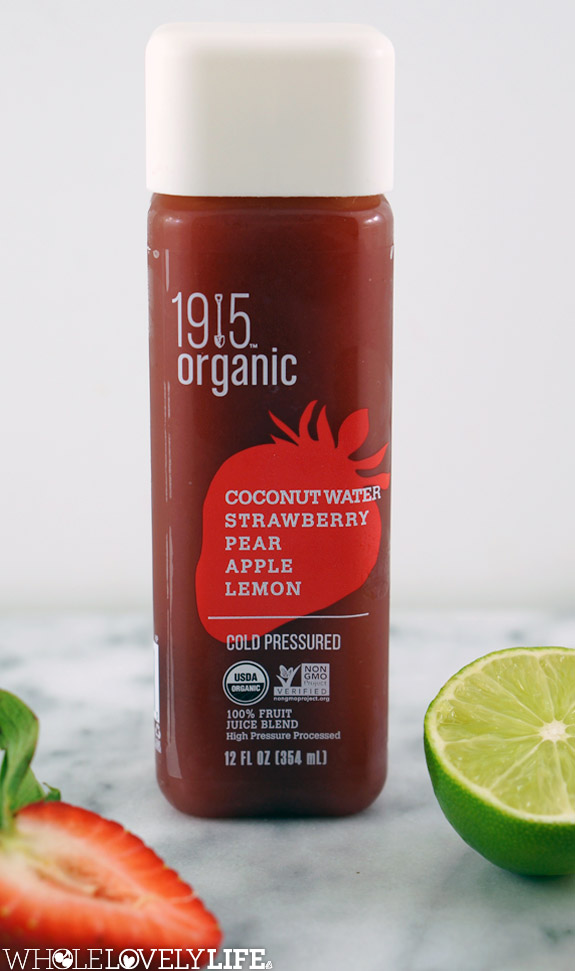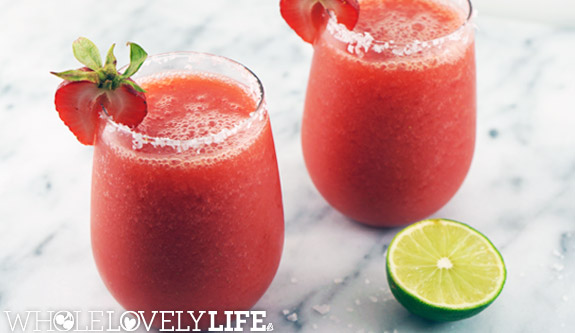 Lovely Ingredients make a healthier version of this classic drink:
Coconut water is naturally sweet and filled with micronutrients and electrolytes.
Strawberries add vibrant color due to their antioxidants and are a great source of Vitamin C.
Pear is packed with phytonutrients and fiber.
Apple is filled with antioxidants and a soluble fiber called pectin.
Lemon is amazing for so many reasons and is very alkalizing to the body.
Lime is filled with flavonoids and Vitamin C.
Hope you enjoy this healthier margarita as much as I do.  Enjoy!
Strawberry Margarita with 1915 Bold House
Author:
Katie at WHOLELOVELYLIFE.COM
Recipe type:
Smoothies + Drinks + Juices
Refined Sugar Free, Gluten Free, Grain Free, Dairy Free, Vegan, Vegetarian, Pescatarian, Nightshade Free
Ingredients
1 bottle 1915 Organic Coconut, Strawberry, Pear, Apple, Lemon Juice
1 lime juiced
2 oz organic tequila
1.5 oz Cointreau or orange liquor
Maldon or other sea salt for rim
6 whole strawberries + extra for garnish
Instructions
Wash strawberries and remove green top.
Juice lime and pour in blender along with 1915 Organic juice, strawberries, tequila and Cointreau.
Add in 1-2 cups of ice and blend on high until fully mixed. Can add more or less ice to achieve preferred thickness.
Rub lime peel on glass rim and dip in sea salt.
Pour in margarita and garnish with a strawberry slice.
*1915 Organic provided the juice for this post.
 Check out their line of
Organic Cold Press Juices
 that are super affordable and delish!