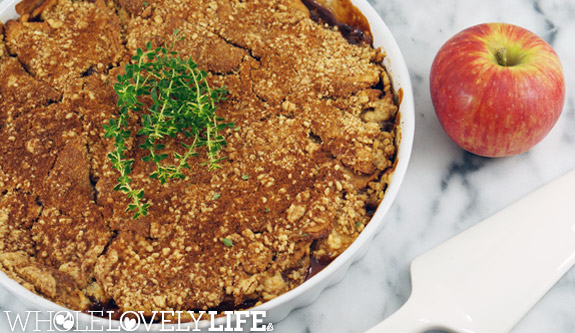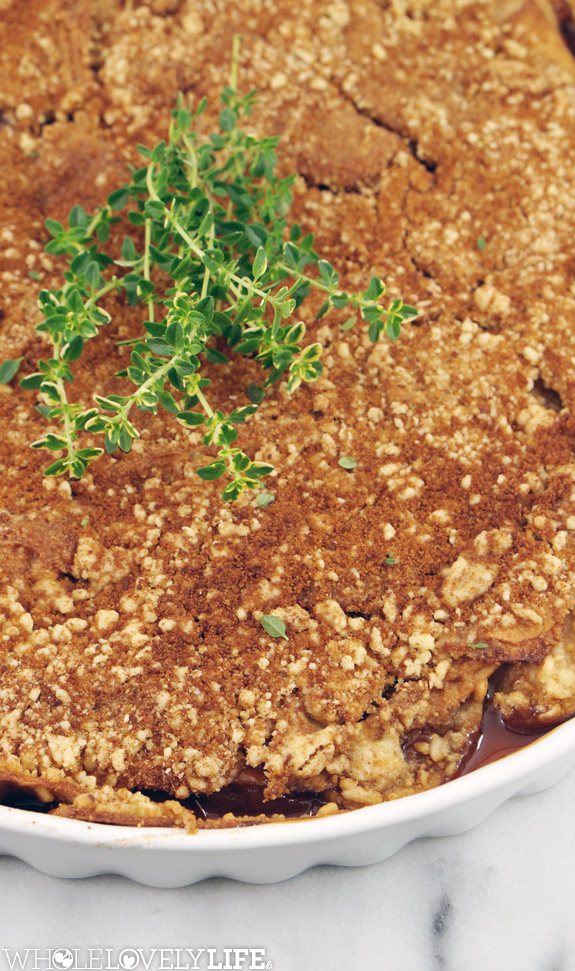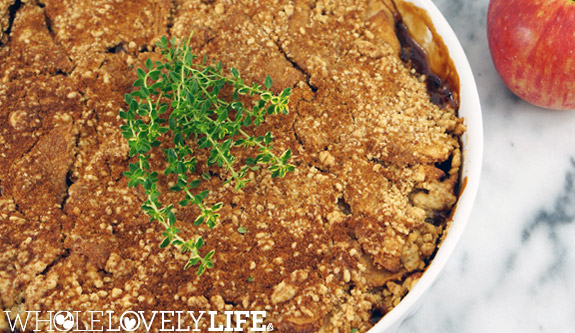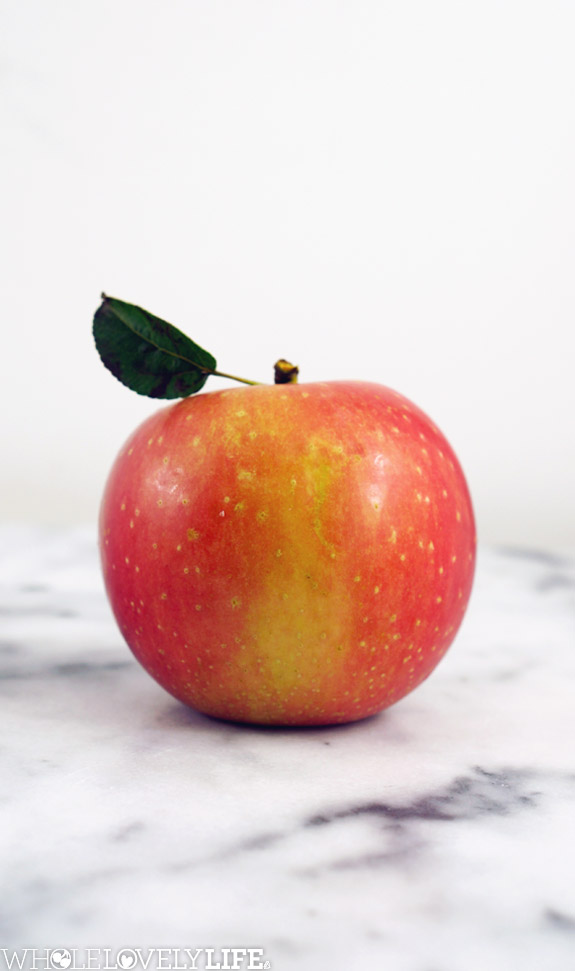 Any other bloggers ever have a post ready to go and then totally forget to post it?  That is what happened with this recipe that I  meant to post in the fall after we went apple picking but for some reason I never finished it.  I'm kind of glad I forgot because this Lemon Thyme Apple Crisp would be perfect to serve for a New Years Day brunch or dessert.  If you can't get your hands on lemon thyme you can just leave it out.  You will hardly miss it.  Lemon thyme is one of my favorite herbs so I am always looking for things to add it too and it turned out to be a great complement to this crisp.  I used Otto's Cassava Flour which is one of my favorite paleo flours to work with but if you are ok with grains you can always use gluten free flour.  I have not tried this recipe with almond or coconut flour so I would be cautious about subbing amounts exactly as shown.
Everyone in my house except for our corgi Luna and I are feeling a bit under the weather so we won't be going out to our planned festivities tonight or tomorrow.  Instead we are staying in.  New Years Eve is one of my favorite nights of the year but I'm ok with missing it this year.  I am just happy and blessed to have some great guys to spend it with.  Not sure we will make it to midnight but we will try!  Whatever you are up to tonight and tomorrow Happy New Year!  I have a feeling 2017 is going to be another amazing year.  Enjoy!

Lemon Thyme Apple Crisp
Author:
Katie at WHOLELOVELYLIFE.COM
Recipe type:
Treats + Snacks
Prep time:
Cook time:
Total time:
Paleo, Vegan, Vegetarian, Dairy Free, Grain Free, Gluten Free, Refined Sugar Free
Ingredients
5 large or 7 medium apples peeled and sliced.
1 cup coconut sugar
1 cup cassava flour
½ cup coconut oil, palm shortening or grass fed butter
juice from ½ lemon
¼ tsp sea salt
½ tsp ceylon cinnamon
1 tsp vanilla extract
1 Tbsp maple syrup
4 sprigs of lemon thyme (leaves removed) + more for garnish.
Instructions
Peel and thinly slice apples. Place in a bowl.
In a small bowl add lemon juice, maple syrup, cinnamon, lemon thyme leaves and vanilla extract. Mix well and then pour over apple and mix until all are coated.
Transfer apples to a baking dish.
In a separate bowl add coconut sugar, cassava flour, coconut oil/palm shortening/grass fed butter (should be room temp/softened) and ¼ tsp sea salt. Mix well until crumbly. You can also toss everything into a food processor and pulse until mixed. I prefer this method.
Pour mixture evenly over the top of the apples.
Bake at 350 degrees for 45-60 min until bubbling.
Top with additional lemon thyme sprigs.
You can serve plain or with a scoop of coconut cream or coconut milk ice cream.
Notes
Use organic whenever possible!
I marked this as Autoimmune Protocol compliant. Per the ingredients it is, however, there is a good amount of sugar so be cautious on portion size.