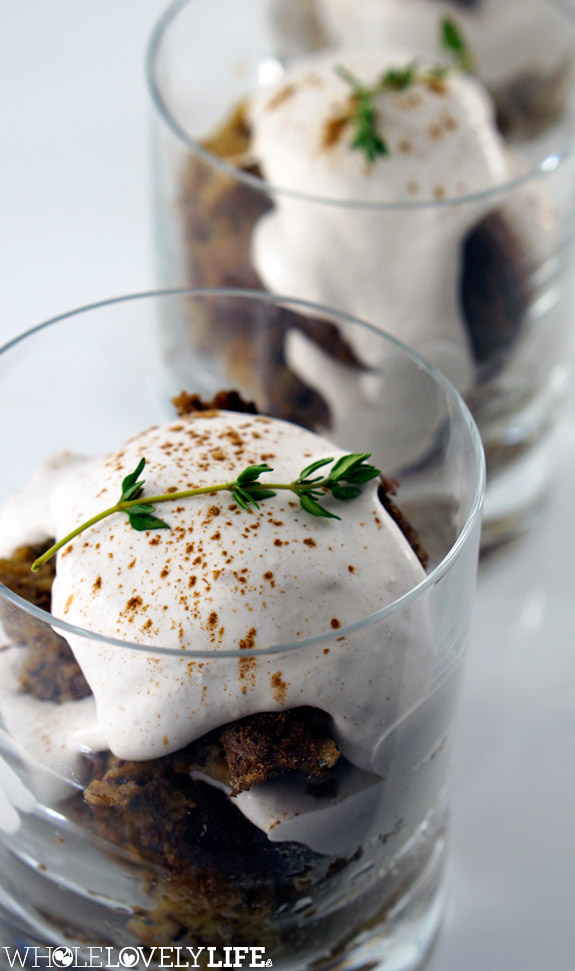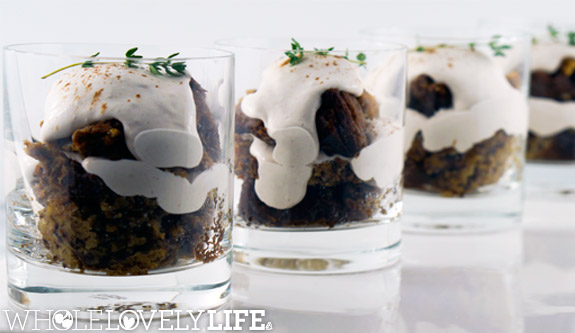 You know when you try a new recipe and it's a total flop?  Well that is what happened with this one.  I was trying to go for a banana pumpkin bundt cake but instead I got something that I could not even get out of the pan.  Before I tossed it in the trash I took a little taste and was pleasantly surprised that it had great flavor, texture and was all around delish!  Drum roll please….. Pumpkin Banana Bread Pudding!  Sounds amazing doesn't it?  Well it gets even better.  I layered it with a little cinnamon coconut whipped cream and was sold.
This recipe would make a great Thanksgiving day dessert but I think it would be even better for Thanksgiving day brunch.  It keeps really well in the fridge even after it has been layered with the whip cream so can easily be made a day or two ahead of time.  How great to be able to pull these out of the fridge on Thanksgiving day morning for your guests or family?  One less mess to clean up in the kitchen, well at least in the morning.  Enjoy!

Pumpkin Banana Bread Pudding
Author:
Katie at WHOLELOVELYLIFE.COM
Recipe type:
Snacks + Treats + Breakfast + Brunch
Prep time:
Cook time:
Total time:
Paleo, Dairy Free, Vegetarian, Gluten Free, Grain Free, Refined Sugar Free
Ingredients
¾ cup ripe banana
¾ cup pumpkin puree
¾ cup almond flour
½ cup tapioca or arrowroot flour
½ cup melted coconut oil
½ tsp sea salt
1 tsp vanilla extract or 1 vanilla bean scraped
¼ cup maple syrup
1 tsp baking soda
4 eggs
1 can full fat coconut milk (refrigerated over night)
2 tsp cinnamon
sprig of fresh thyme for garnish
Instructions
Peel and mash banana with a fork and measure out ¾ cup. Should be about 2 small or medium bananas. If you have a little extra you can throw it in.
Add in all other ingredients (except for the coconut milk and cinnamon) and mix well will a fork.
Grease a pan with coconut oil and pour mixture in. It does not matter what type of pan you use because you will be scooping out the cooked bread pudding with a spoon to serve.
Bake at 350 degrees for 45min or until you can stick a clean knife in the middle and get no residue when you pull it out.
While bread pudding cools make the coconut whipped cream.
Refrigerate can of coconut milk over night and when you remove from the fridge flip the can upside down and open from the bottom. This makes it easy to separate the cream from the water. Throw out the water and take just the cream and add cinnamon and whip with a hand mixer.
To serve, alternate bread pudding with cinnamon coconut whipped cream. Finish with a dusting of fresh grated cinnamon and garnish with fresh thyme.
Notes
Use organic whenever possible and pastured eggs are best!