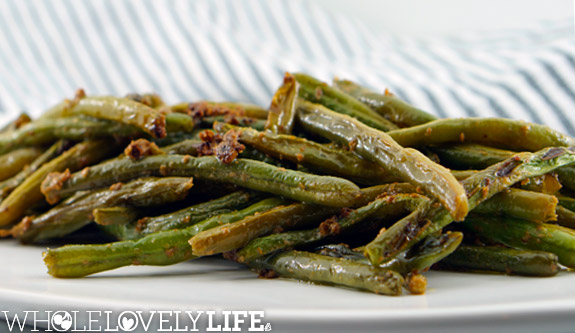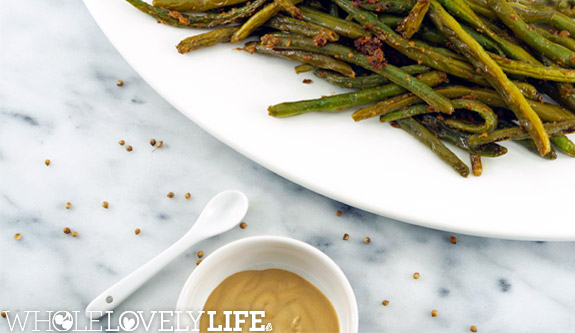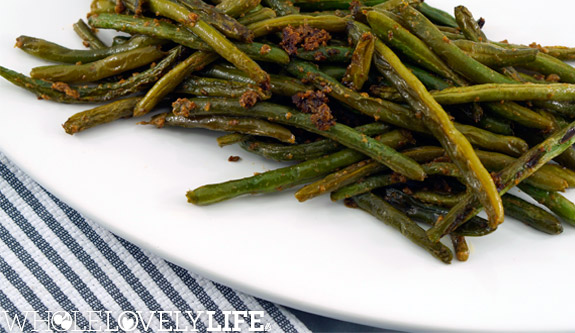 Happy November!  October went by in hot second and it's now officially holiday season.  I always have a hard time transitioning from summer to fall but once we get to November the kid in me starts getting excited about the upcoming holiday festivities including cooking for family and friends.  We are having incredible weather in Minneapolis.  It reached almost 70 degrees both yesterday and today and I will admit I spent a few minutes laying under a tree in our backyard feeling the sunlight on my face.  It felt really great and it's nutty to think that feeling probably won't be back for 7 months!  Yikes did I just say 7 months?  I think I did.  That is the reality of living in Minneapolis folks.  So, in honor of all the cold months ahead I'm kicking it off with this hearty Green Beans With Dijon Coriander Butter recipe.  If you are starting to stock pile potential Thanksgiving recipes this one should be on your list.  It is an absolutely perfect side dish that can be prepared both paleo and vegan which is a major win!
Coriander has grown to be one of my favorite spices especially during cooler months.  It has a lemony citrus and warm, nutty, spicy flavor when crushed which is my favorite way to use it.  You can use as a powder but if you have a pedestal and mortar start crushing because the flavor you achieve is so amazing.  Besides a little work crushing the coriander this recipe requires no heavy lifting.  It's as simple as tossing all ingredients together and roasting in your oven.  Enjoy!


Roasted Green Beans With Dijon Coriander Butter
Author:
Katie at WHOLELOVELYLIFE
Recipe type:
Salads + Sides
Prep time:
Cook time:
Total time:
Paleo, Whole 30, 21 Day Sugar Detox, Vegetarian, Pescatarian, Gluten Free, Grain Free, Nightshade Free, Refined Sugar Free, Autoimmune Protocol (see notes), Dairy Free (see notes), Vegan (see notes)
Ingredients
1 package green beans
2 Tbsp grass fed butter or palm shortening to make AIP compliant and vegan
1 Tbsp Dijon mustard (I like Annie's)
1 tsp coriander seed (can use powdered)
¼ tsp sea salt + more to taste
Instructions
Crush coriander in a mortar and pestle until well broken down (if you don't have one crush on a cutting board by rolling a rolling pin or glass over the top).
Melt grass fed butter or ghee in a small bowl. Add crushed coriander, Dijon mustard and sea salt. Mix well.
Place green beans in an baking dish and pour mixture over the top. Toss well to coat.
Bake at 400 degrees for 20-30 min or until just started to brown. Mix a few times during cooking for even coating.
Notes
Use organic whenever possible! Substitute palm shortening for ghee to make Autoimmune Protocol, Dairy Free and Vegan.