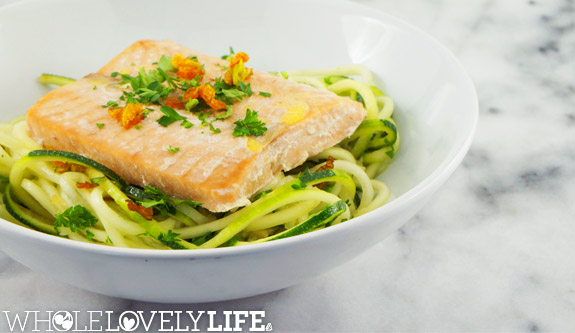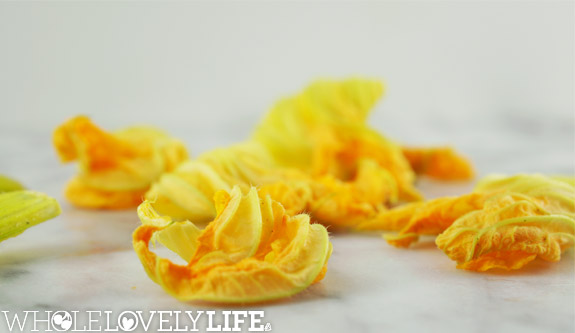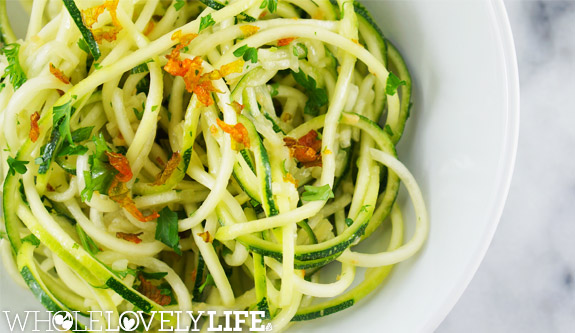 Zoodles zoodles zoodles!  I have been eating zoodles so frequently these days.  They are so easy to make and zucchini is such a great summer veggie.  I have tried a few ways to prepare zoodles.  However, my favorite way is raw.  Adding warm ingredients to the top softens them and I love the contrast between the hot and cold ingredients.
Our garden is finally starting to grown and we are having so much fun sharing the experience with our 3 year old.  This last week we picked a few strawberries and blackberries which were seriously the best I have ever had.  Such a difference when they come straight from the earth.  Besides getting a few berries we have had a decent amount of squash blossoms.  I have always wanted to try squash blossoms because they are so beautiful and such a unique ingredient.  They are exceptionally fragile so unless you come across them in your local farmers market you probably won't find them.  If you happen to find them you need to act quick because they will only keep for around 24 hours in the refrigerator.  If you do find some this Salmon with Lemon Garlic Zoodles and Crispy Squash Blossoms is a great dish to try.
There are a few ways you can prepare squash blossoms.  You can use them to garnish just about anything, add them to tacos, pasta and pizza or stuff them with ingredients and either bake or deep fry them.  For this recipe I simply cut them into strips and pan fried them in a little avocado oil.  They added the perfect crunch and texture to this salmon dish.  Enjoy!
Looking for other zoodle recipes?  You may like Paleo Zoodle Carbonara, Zoodles with Avocado Pesto or Red Thai Curry Veggie Zoodle Bowl!

Salmon with Lemon Garlic Zoodles and Crispy Squash Blossoms
Author:
Katie at WHOLELOVELYLIFE.COM
Prep time:
Cook time:
Total time:
Paleo, Autoimmune Protocol (see notes) Gluten Free, Grain Free, Dairy Free (see notes), Pescatarian, Whole 30, 21 Day Sugar Detox, Refined Sugar Free, Nightshade Free
Ingredients
2 Alaskan salmon filet
2 cloves garlic
lemon juice from ½ large or 1 small lemon
1 tsp sea salt + more to taste
1 large or 2 small zucchini
8 squash blossoms
2 Tbsp ghee, olive oil or palm shortening (for sauce)
2 Tbsp avocado or coconut oil (for frying squash blossoms)
Instructions
Preheat oven to 450 degrees.
Lay salmon on a parchment lined baking sheet. Brush with a little avocado oil and sprinkle with a little sea salt.
Bake for 10-15 min or until cooked all the way through.
While the salmon cooks prepare the lemon garlic sauce.
To make sauce finely chop garlic. Add 2 Tbsp fat of choice to a small pan, heat for around 1 min and add garlic. Remove from heat and let garlic cook slowly and infuse into the fat.
Squeeze lemon. Add juice to the infused garlic oil.
Spiralize zucchini and add to a bowl.
Chop parsley and set aside.
Wash squash blossoms and dry. Gently cut into strips. Heat 2 Tbsp oil in a small pan for around a minute. Drop squash blossoms in oil and cook until just starting to brown. Place on a paper towel lined plate to soak up excess oil.
Add lemon garlic sauce to zoodles, with a dash of sea salt and toss well. Add ½ of the fried squash blossoms and gently toss again.
To plate add zoodles to bowls, top with a piece of salmon and sprinkle with a dash of sea salt, squash blossoms and parsley.
Notes
Use organic and wild sea food whenever possible! To make Dairy Free, Vegan and Autoimmune Protocol use olive oil or palm shortening for lemon garlic sauce.