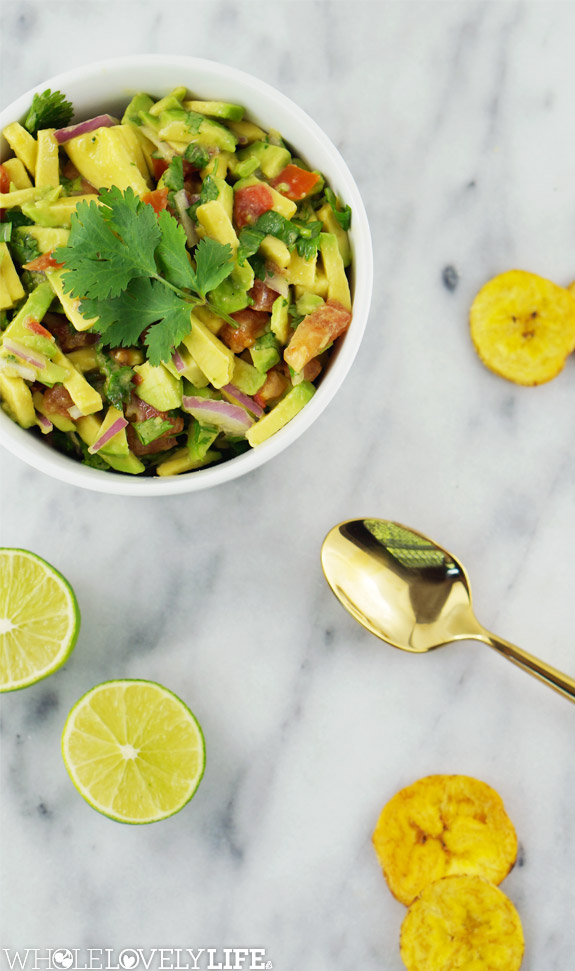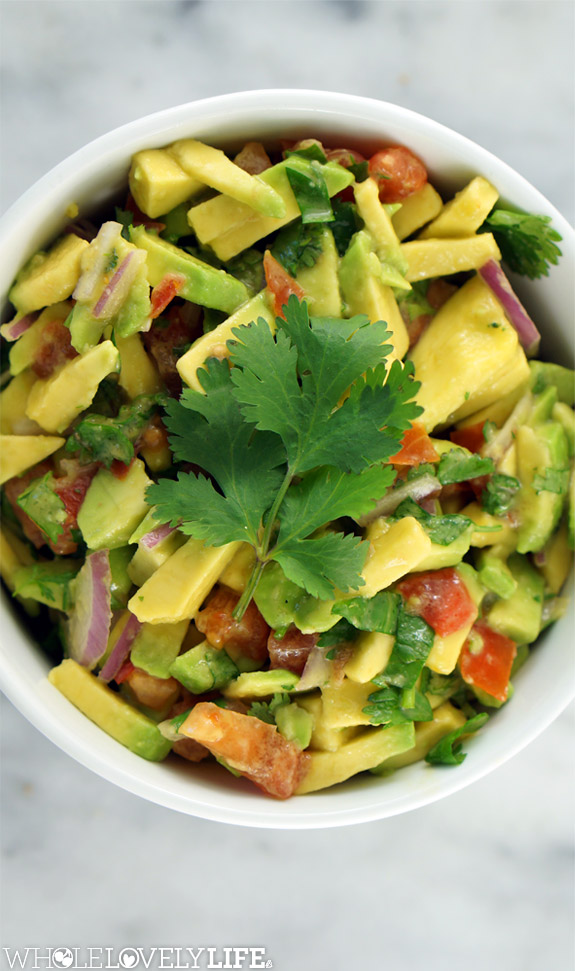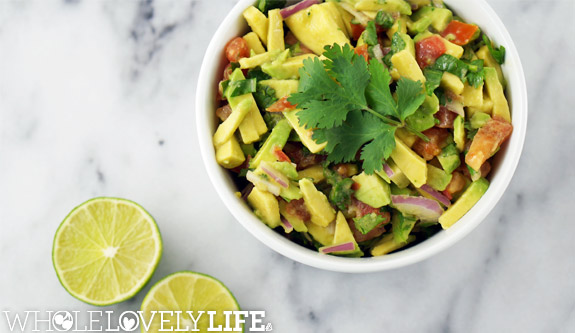 Hope everyone is having a lovely July!  Can you believe August is just around the corner?  I sure can't.  I don't know about you but the last few weekends we have been sitting outside in the backyard, laying on the hammock, watching H play in his dinosaur pool and eating fresh, healthy, fast and yummy food.  This Simple Chopped Guacamole has been on constant repeat with plantain, sweet potato and cucumber chips.  What I love about it is you can use a slightly less ripe avocado.  Anyone else get impatient waiting for the avocado's on your counter to reach perfect ripeness?  Then, once they do you have to use them up super fast or they will all go bad in a blink of an eye.  Yay, me too!  That is why I love this recipe.  You don't have to wait until they can be mashed because you can easily cut them up when they are a bit firm.  This recipe is another great way to get more avocado's into your daily diet.
Avocados are loaded with with Vitamins E, B5, B6, B1, B2, B3, C, K, A, as well as Folate, Magnesium, Copper, Iron, Zinc, Manganese, Phosphorous and Potassium.  Adding avocado to salads or mixing with other veggies can increase the antioxidant absorption of those veggies due to the fact that many nutrients are fat soluble.  So, combining veggies with a good fat like avocado will help to increase the nutrient value and make sure none off your healthy eating efforts go to waste.  Yay for avocados.  Enjoy!

Chopped Guacamole
Author:
Katie at WHOLELOVELYLIFE.COM
Recipe type:
Condiments + Sauces
Paleo, Vegan, Dairy Free, Whole 30, 21 Day Sugar Detox, Vegetarian, Grain Free, Gluten Free, Pescatarian, Refined Sugar Free, Nightshade Free (see notes), Autoimmune Protocol (see notes)
Ingredients
2 large or 3 small firm avocados
2 roma tomatoes or 1 medium sized regular tomato (omit for AIP and nightshade free)
½ small to medium sized red onion finely chopped
1 teaspoon sea salt
Juice from 1 lime
¼ cup chopped cilantro
Instructions
Cut avocado in half. Peel skin, remove pit and chop into desired size pieces.
Wash and cut tomato into desired size pieces.
Peel and finely chop red onion.
Juice lime.
Wash and chop cilantro and reserve one whole piece for garnish.
Mix all ingredients in a bowl. Add more lime juice or sea salt to taste.
Serve with plantain, sweet potato or raw veggies.
Notes
Use organic whenever possible! For make Autoimmune Protocol and Nightshade Free compliment omit the tomato.