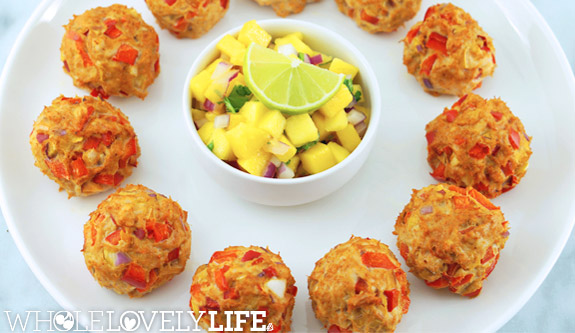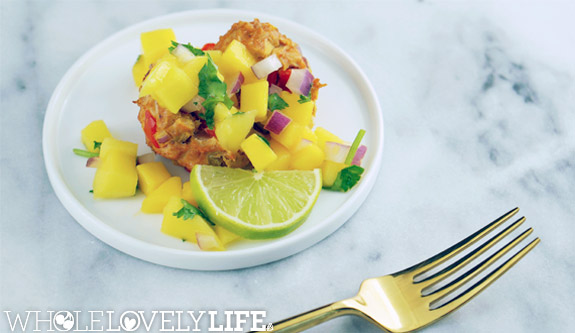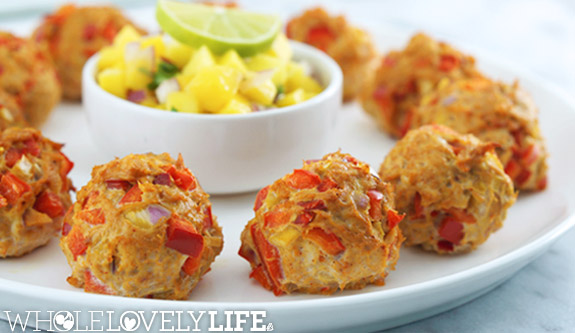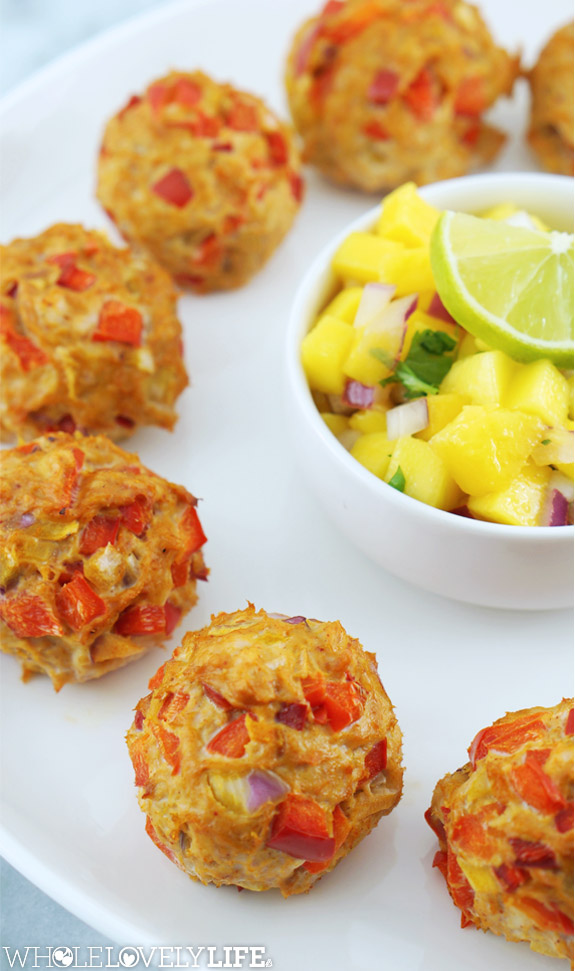 I have been following The Bone Broth Diet the last week and have been loving it.  Getting more bone broth in my diet has been a goal of mine forever and this diet is helping me stick to it.  I also have dropped 5lbs which makes me super happy.  I am still about 20lbs heavier than my pre pregnancy weight and even though I eat clean and live a healthy lifestyle I have found it almost impossible to drop the last bit of weight from when I had my son 4 years ago.  I am also noticing a big difference in my nails which I attribute to the bone broth.  Even though Vital Proteins Collagen is part of my morning lemon water routine I think my daily bone both consumption is making all the difference!
I have been using a lot of the recipes from The Bone Broth Diet book but have also be creating some of my own including these Southwest Turkey Meatballs with Mango Salsa.  You can have one small serving of fruit per day on this plan and typically I have berries with my breakfast but once in awhile I will include a tiny bit with my dinner instead.  These meatballs are also super tasty all by themselves if you want to ditch the salsa.  They are also wonderful on top of a bed of greens.  And, major bonus!  If you don't tolerate eggs these would be perfect as they are egg free.  I have found organic ground turkey sticks together much better than other ground meats so you don't need any eggs.  Please let me know if the comments if you try these and what you think.  Enjoy!
Southwest Turkey Meatballs with Mango Salsa
Author:
Katie at WHOLELOVELYLIFE.COM
Prep time:
Cook time:
Total time:
Paleo, Whole 30, Gluten Free, Grain Free, 21 Day Sugar Detox, Dairy Free, Refined Sugar Free
Ingredients
1 lb ground turkey
1 red pepper finely chopped
¼ red onion finely chopped
1 fresno or jalapeno pepper finely chopped
½ tsp turmeric
½ tsp chili powder
1 tsp sea salt
1 tsp cumin
Instructions
Finely chop red pepper, fresno or jalapeno pepper (be sure to remove seeds) and red onion. Place in a bowl.
Add turmeric, chili powder, sea salt and cumin. Stir to coat veggies.
Add ground turkey and mix with hands until everything is well mixed.
Form into even size meatballs. Should make around 16 medium sized meatballs.
Place in an oiled glass cooking pan.
Cook at 375 degrees for 25 min.
Serve with mango salsa. Link to recipe above.
Notes
Use organic whenever possible. Omit mango salsa to make 21 Day Sugar Detox compliant.