Sweet and savory… Nothing is better!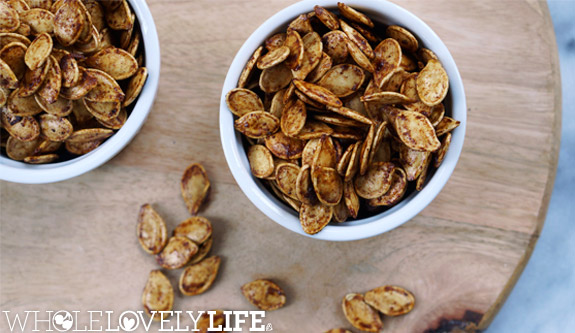 If you still have a pumpkin or two to carve reserve your seeds and make these super yummy Spicy Pumpkin Pie Pumpkin Seeds.  I promise the work of picking through all the pumpkin bits (my least favorite part and I'm pretty sure I'm not alone) is worth it.  These seeds come out perfectly roasted and are the most devine blend of sweet, savory and salty.  Oh, and no junk here.  These are made with grass fed butter, organic pumpkin pie spice and coconut sugar.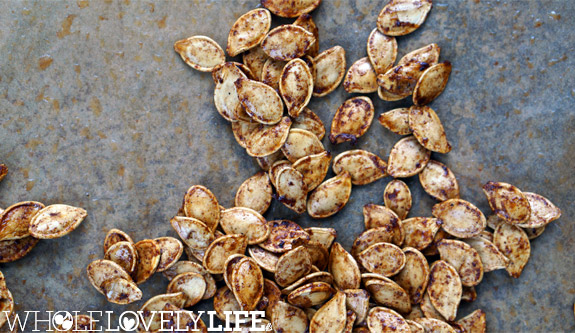 Growing up my Mom used to always reserve the pumpkin seeds from our Halloween pumpkins and roast them in the oven.  I can still remember the smell!
This is the first year that I'm carrying on the tradition with my son H.  We had so much fun carving our pumpkins as a family this past Friday night and planning this recipe together.  Getting into the kitchen with your kiddos is one of the best things you can do.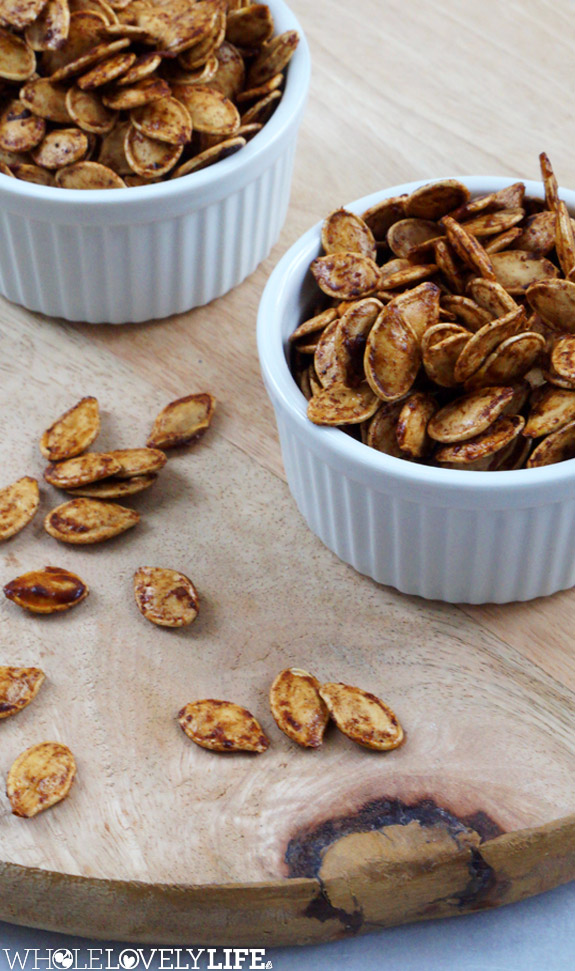 Lovely Ingredients For Vibrant Heath:
Pumpkin Seeds are filled with magnesium (most people are deficient), zinc and omega 3 fatty acids.
Ceylon Cinnamon, Ginger, Nutmeg, Allspice and Cloves are all wonderful spices that are amazing for your health.
Cayenne Pepper helps with digestion and detoxification.
Coconut Sugar is still sugar but is far superior to table sugar because it has vitamins, minerals and phytonutrients.
Hope you love this one as much as H and do.  When you roast your pumpkin seeds do you like them sweet, savory or both?  Enjoy!
Spicy Pumpkin Pie Pumpkin Seeds
Author:
Katie at WHOLELVOLYLIFE.COM
Recipe type:
Treats + Snacks
Prep time:
Cook time:
Total time:
Paleo, Vegetarian, Grain Free, Gluten Free, Refined Sugar Free, Pescatarian
Ingredients
Pumpkin seeds from 2 pumpkins (about 2 cups)
2 Tbsp grass fed butter
1 tsp pumpkin pie spice
¼ tsp pink salt
⅛ tsp cayenne pepper
3 Tbsp coconut sugar
Instructions
Melt grass fed butter in a medium size bowl and add pumpkin pie spice, pink salt, cayenne pepper and coconut sugar. Mix well.
Pour cleaned and slightly dried pumpkin seeds in the bowl (I allowed to dry on my counter on top of a paper towel for a few hours). Mix to coat well.
Spread on a parchment lined baking sheet and bake at 350 degrees for 35 minutes tossing a few times during cooking.
Allow to cool (coating with harden as the seeds cool).
Store in an airtight container.