TULA Probiotic Skincare Review + Special Offer!

Have you heard of TULA Skincare?  I hadn't until recently and am surprised I had not because this skincare line is quite unique.  Just as a healthy meal is good for the body on the inside we also need to feed our skin from the outside.  This skincare line is filled with nutrients, antioxidants, fatty acids and probiotics!  Yes, you heard me right probiotics.  Just as good bacteria is amazing for your gut it's also amazing for your skin and has the ability to naturally balance it and balance is the key to healthy, beautiful skin.  I recently had the chance to try a few of their products and have been using them for the last month.  You know how much I love Beautycounter but besides continuing to use my daily cleanser and makeup I devoted myself 100% to the two products I selected and let me tell you it was love at first site.
The two Tula products I tried were the Illuminating Serum and the Overnight Skin Rescue Treatment.  I thought the two would pair nicely together.  Below I will share how I have been using both products and what my overall thoughts are.   Also, as you know I am an advocate of clean beauty products.  Your skin is your largest organ so anything you put on it is going to end up in your blood stream.  Unfortunately, TULA is not rated on the EWG but overall I feel good about the ingredients.  I will share more about that below.  What makes this line so great is all products can be used on any skin type.  Because these products aim to bring balance to the skin they are perfect for dry, combination and oily skin.  This makes the products easy to shop and really straight forward.  I love skincare lines with just the right amount of items that are both simple to understand and use.  TULA really has that covered!  Oh, and all their products are cruelty free.  A huge bonus in my book.  Now onto the review!
Overnight Skin Rescue Treatment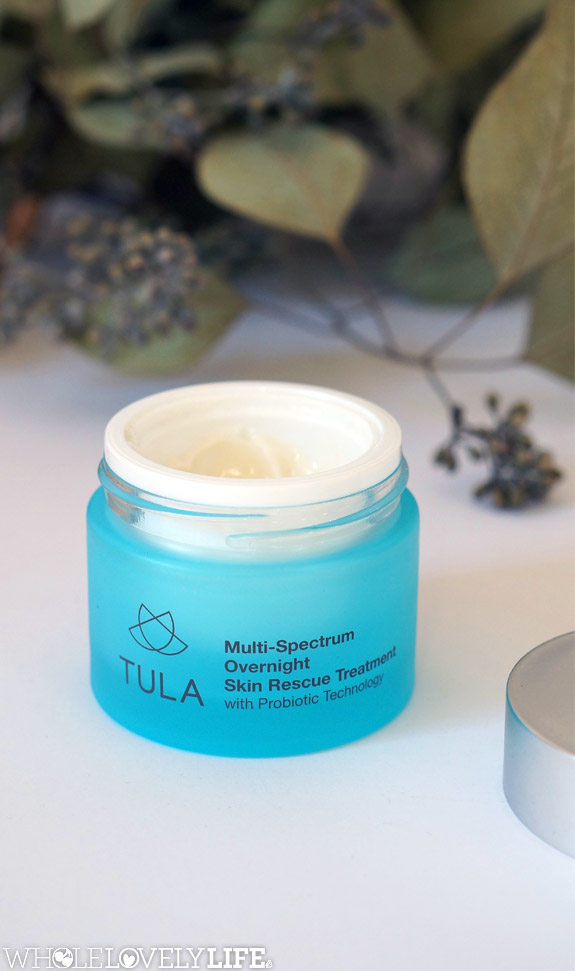 Benefits:
Targets fine lines and wrinkles, increases cell turnover, and increases skin's elasticity and firmness.
Works to reduce pore size.
Specially formulated with multi-strain probiotic technology to leave skin nourished and balanced.
Suitable for all ages and all skin types – ideal for anyone seeking a more potent hydrating and anti-aging treatment.
Key Ingredients:
Bacillus Coagulans Ferment (probiotic strain) helps increase skin's elasticity, decrease pore size, and improve fine lines and wrinkles.
Vitamin C aids in collagen synthesis and fades dark spots.
Indian Gentian (botanical extract) regenerates cells and reduces wrinkles.
Alpha Hydroxy Acids gently increase cell turnover and smooth skin texture.
Blend of watermelon rind and fruit extracts provide an instant and prolonged hydration boost.
What It Does Not Contain:
Phthalates
Parabens
Mineral oil
Petrolatum
Propylene glycol
Gluten
DEA
TEA
Sulfates
Synthetic fragrance
Let me start off by saying I am a major lover of night creams.  If you are going to invest in one skincare item it should be a really effective night cream.  You may be resting during sleep but your skin is hard at work repairing itself.  A good night cream only makes this process better.  I have one word to explain my first impression of this night cream.  AMAZING!  I have been applying this cream all over my face and neck, including my under eyes and eye lids.  The first thing I noticed after application was every little fine line was plumped and smoothed almost immediately.  My skin looked radiant, felt smooth, moisturized and plump.  In the morning I could still feel the cream on my skin.  It absorbed but still felt moist.  To me that is a sign of a great night cream.  I hate when it rubs off and I wake up with skin that feels parched and dry.  I do want to comment on scent.  Personally it did not bother me but there is a bit of a sour, yogurt smell which makes sense since there are 3 strains of probiotics in this cream.  Its definitely different than most night creams I have used in that regard but I would much rather my skincare have a natural smell then a synthetic scent.  Overall I woke up with perfectly hydrated, radiant skin.  A true test given its the middle of winter and I live in Minneapolis.
Illuminating Serum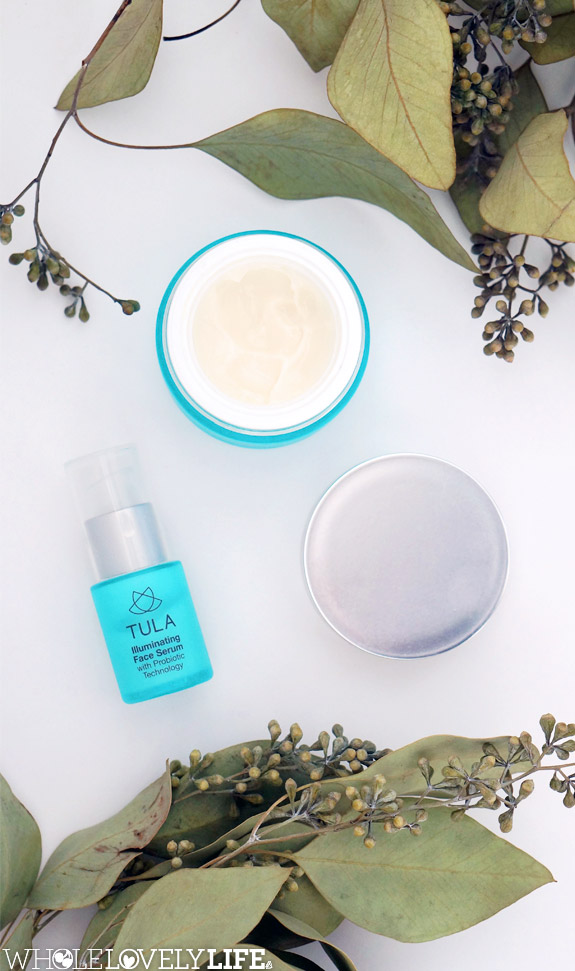 Benefits:
Evens skin tone, smoothes texture, and diminishes the appearance of dark spots.

Sinks into the epidermis to restore moisture and nourish skin from the inside out.

Contains our signature probiotic technology to leave skin nourished and balanced.

Suitable for all skin types and all ages – especially good at brightening dull, aging skin.
Key Ingredients:
Tocopherol (Vitamin E) has antioxidant actions that protect the skin and provide anti-aging effects.
Citrus extracts and pearlescent pigments brighten the skin and boost its radiance.
Safflower oil improves the quality of the skin and facilitates the regeneration of new cells.
Chicory root is a natural anti-inflammatory prebiotic that stimulates collagen synthesis.
Probiotic technology protects against harmful bacteria and restores skin's natural balance.
What it does not contain:
Phthalates
Parabens
Mineral Oil
Petrolatum
Propylene Glycol
Gluten
Sulfates
I typically don't wash my face with a cleanser in the morning and either rinse it with cool water or use my Konjac Sponge by 100% Pure.  I continued to do this while using these TULA products.  I used the Illuminating Serum as a light moisturizer skin prep before applying my Beautycounter Skin Tint Foundation.  I found that it perfectly prepped my skin with just the right amount of moisture and allowed my foundation to go on smoothly.  It has a subtle shimmer that makes the skin glow.  Even without foundation I felt my skin looked more even and radiant.  The only negative thing I have to say about this serum is it does contain parfum/fragrance.  This is a huge red flag for me when I purchase skincare.  These two words could mean anything so I try to avoid products with this listed as an ingredient.  Given the number of ingredients not in this product my fingers are crossed the fragrance is coming from a natural source.
Overall, I think TULA Probiotic Skincare is a great clean, cruelty free skincare line.  I love that it is differentiated from the market and that the products truly deliver results.  Overall, I have been blessed with good skin that rarely breaks out.  I am just starting to see some fine lines and being in my late 30's I am focused on using products with anti-aging benefits.  These two certainly fit the bill.  These products left my skin glowing, radiant and plump which is what I want from a skincare line.  Also, I think it's important to mention price.  These products are not cheap but they are inline with many other skincare products I use currently or have used in the past.  Many that were even filled with toxic ingredients.  Your health and skin is worth the investment and better products are more concentrated and have higher quality ingredients so a little goes a long way.  In one month I barely put a dent in either one of these items.  I plan to continue incorporating them into my daily skincare routine.  Below are a few products I would love to try next from this line.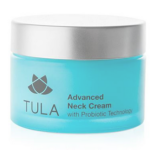 My neck and decollete are definitely an area of concern as I am getting older so I love that this skincare line has a cream specifically targeted to treating this area.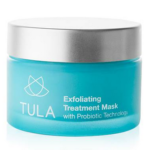 Masks are so important to incorporate into your weekly skincare routine.  I love that this mask is both a mask and exfoliating treatment in one.
Muli-Spectrum Eye Renewal Serum

I love the idea of an eye serum vs. cream.  Also, love the metal applicator tip.  This is one I am excited to try!
Have you tried TULA?  I would love to hear what you think so let me know in the comments section.
For more information on TULA Skincare, to read reviews and see before and after pictures check out their website!
If you love what you see and want to try these amazing products yourself you are in luck.  TULA is  offering my readers 20% off their entire site + free shipping.  Just use code KATIEWINTER20
Offer is Valid 2/15/17 – 4/1/17
Happy shopping!
TULA provided these products, but review and opinions are my own.